B.G. Peck Waterjet Cutting:
B.G. Peck has been using waterjets to cut materials ranging from stainless steel to carbon fiber parts for decades. It's proven to be a great option for many customers looking for precise cutting of metal and non-metal materials quickly, often shipping products the same day, and with no tooling charges. We can handle materials up to seven inches thick, twelve feet long, and six feet wide and cut them accurately to within +/- .005 inches if necessary. Our waterjets' have been used to cut prototypes for jet engines, radar systems, automotive parts, by artists to create unique pieces of artwork, to cut marble to to create beautiful and artistic stone inlays, and much more. Our waterjets will cut any metal, plastic, rubber, fiber (including carbon fiber), stone, or wood in either small prototype runs, or large production runs. All of this with no tooling charge. Just send us your DXF/DWG files and leave the rest to us.
Advantages of Waterjet Cutting
With waterjet cutting you can cut almost any type of material.  Waterjet is especially ideal for cutting materials that cannot be cut by a laser or thermal cut. Materials like titanium, granite, aluminum, marble, stainless steel, carbon steel, Inconel, concrete, stone, glass, plastic, rubber, foam, tile, ceramics.
With waterjet cutting you can reduce costs and speed up processing by eliminating or reducing expensive secondary processes. Since no heat is applied to the material, cut edges are clean with minimal burr.
Problems such as thermal cracked edge defects, crystallization, hardening, and reduced machine- or weld-abilities are eliminated. Parts remain flat and there is no tooling to design, build, test, maintain, or modify.
Waterjet nesting capabilities are ideal for prototypes with maximized material yield. A waterjet maintains accuracy after numerous runs where some other tools may dull or need to have tolerances rechecked.
A waterjet can cut materials with a variety of speeds achieving either a great deal of accuracy with very smooth edges or a lower level of accuracy with rougher edges. If the tolerances required for your application are low, cutting speeds may be greatly increased to save money. The numbered images above, from a very informational article on "waterjet cutter" on wikipedia.org, clearly illustrates the variation in cut quality.
With Waterjet Machine Manufacturing
Minimal Heat Affected Zone (HAZ)
Up to 6′ X 12′ and 7″ thick (HAZ)
No Heat Distortion
Cut Edges are Clean with minimal burr
The Positioning Accuracy is +/-.005
Kerf Width: .040″
Other Advantages of BG Peck's Waterjet Machine Manufacturing
Prototypes / Development Runs
Short or Long Run Production without tooling cost
Complex Shapes · Difficult Materials
CAD Design – Engineering Services
Fast Turnaround
Waterjet Cutting Applications and Industries
AEROSPACE
Titanium for military aircraft • Engine components (aluminum, titanium, heat-resistant alloys) • Aluminum body parts • Carbon fiber laminates • Latches
AUTOMOTIVE
Insulation • firewall • under-hood • foam • truck bed liners • gaskets • seals • motorcycles • valves • clutches • brakes and more
ELECTRONICS
Circuit boards • electrical insulation (Fishpaper, Mylar®, Kapton® ) • copper contacts • EMI/RFI shielding • G-10 and other grades of glass reinforced epoxy laminates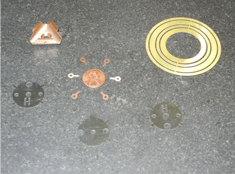 FOAM PRODUCTS
Custom foam packaging • automotive interior/body (door components, instrument panels, etc.) • Dense foams (sound insulation, vibration isolation, archery targets, etc.) • Gaskets and seals
FIBERGLASS
Home insulation ("pink" R-value insulation) • panel insulation (typically 4′ x 8′ sheets cut to fit specific applications) • G-10 and other grades of glass reinforced epoxy laminates
GASKETS
Automotive • marine • engines • valves • clutches • brakes • electric motors • motorcycle • aircraft  • metal • copper • Teflon® • silicone rubber • cork
METALS, EXOTIC & NONTRADITIONAL MATERIALS
Flat stock (aluminum, Stainless Steel, mild steel, titanium, brass, Inconel, tool steel, copper) • ceramics (green state and final products) • Kevlar laminates • phenolics • wax • plastics (high and low density) • plexiglas • acrylics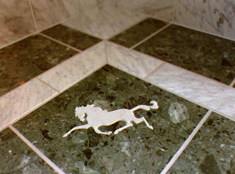 STONE / GLASS / METAL ARTWORK
Flooring inlay • tabletop inlay • wall inlay • metal artwork (outdoor: theme parks, special lighting, museum silhouettes, etc.) • floor tile (manufacture – cut to size) • Flat glass with numerous contours • outdoor stone (pool decks, custom stepping stones, etc.) • Stained glass (crafts, church mosaics, lamp shades, etc.)
Frequently Asked Questions About Waterjet Cutting
How does waterjet cutting work?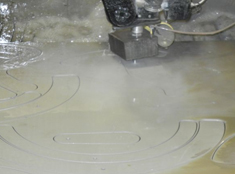 There are two main steps involved in the waterjet cutting process. First, the ultra-high pressure pump or intensifier pressurizes water to pressure levels above 40,000 psi (2760 bar); to produce the energy required for cutting. Second, water is then focused through a small precious stone orifice to form an intense cutting stream. The stream moves at a velocity of up to 2.5 times the speed of sound, depending on how the water pressure is exerted.The process is applicable to both water and water abrasive jets. For abrasive cutting applications, abrasive garnet is fed into the abrasive mixing chamber, which is part of the cutting head body, to produce a coherent and an extremely energetic abrasive jet stream.
How fast can a waterjet cut and how does it hold accuracy?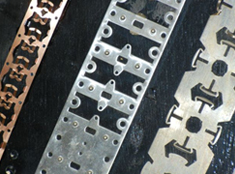 Cutting speed is determined by several variable factors, including the edge quality desired. Variables such as amount of abrasive used, cutting pressure, size of orifice and focus tube, pump horsepower, and etc., which can be adjusted to produce the desired results, whether your priority is speed or the finest cut.  Speed and accuracy also depend on material texture, material thickness, and the cut quality desired. In cases of rubber and gasket cutting, our waterjet motion capabilities would allow traversing at 0.1 to 200 linear inches per minute.
How thick can a waterjet cut?
This can range anywhere from .010″ up to 7″ thick. It varies with the softness or hardness of the material being cut. Hard materials are normally cut from .001″ up to 6″ thick. Sometimes even thicker material can be cut, but as always it depends on the finish desired. For all materials, adjustments can usually be made to produce what our customer requires.
What is unique about waterjet compared to other cutting technologies?
Waterjet allows tremendous flexibility and versatility in manufacturing and provides for more cutting possibilities. Simply put, waterjet is by far, the most flexible technology in our business and delivers results with amazing reliability.
Here are a few examples that set waterjet technology apart from the rest:
Due to water's cold nature, the material cut does not show heat-affected zones.
Environmentally friendly, in that debris is removed by water reducing hazardous gases.
Cuts fragile materials like marble and stone.
Cuts plastics without giving off noxious fumes.
Has the ability to perforate most materials without start holes.
Saves raw materials due to small cutting kerf width.
Cuts composite materials without any special treatment.

Pictured above: waterjet in action next to a laser in action.
What kinds of materials can be cut with a waterjet?
A waterjet can cut both hard and soft materials. Soft materials are cut with water only, while hard materials require a stream of water mixed with fine grains of abrasive garnet. Materials cut by waterjet including, titanium, stainless steel, aluminum, exotic alloys, composites, stone, marble, floor tile, glass, automotive headliners and door panels, gasket, foam, rubber, insulation, textile, and many more.
Will waterjet cut any material? What are its limitations?
There are some types of materials that are typically not good for waterjets. Depending on the end use, wood is often a poor material, due to its fibers' absorption of water, which causes them to splay and become rough. Many fabrics do not cut well, as the fibers "squirm" out from under the cutting stream, rather than remaining in place during the cutting process.
A few materials that require the waterjet to cut through one layer, cross a void, then cut through another layer do not produce desirable results. The cutting stream does not remain cohesive after cutting through the upper layer, causing a poor edge quality on the next layer(s).
Watch video
Materials we stock